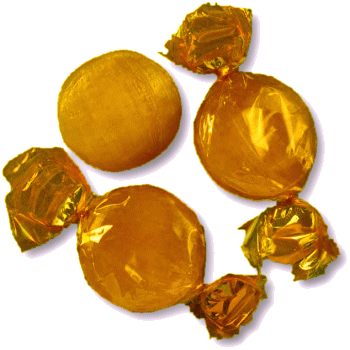 WELCOME TO An Entertainment Site for Scottish Country Dancers - Enjoy the curated selection of theme-related dances for celebrations and holidays, or find a dance associated with a special calendar day, or EVEN your own birthday!
Other Scottish Country Dances for this Day
Today's Musings, History & Folklore
"I'd rather have the taffy than the epitaphy."

~ Chauncey Depew (1834-1928)
If you have fond memories of buying salt-water taffy at the seashore, you may be interested to learn that this traditional treat contains neither salt nor ocean water! Candy lore has it that in 1883, a storm hit Atlantic City off the New Jersey coast. The boardwalk at the time was smaller and lower than today and waves easily cleared the boardwalk and flooded several businesses with sea water, including a candy shop owned by David Bradley. Later after the storm when a young girl came into the shop to buy some taffy, Bradley jokingly told her all he had was "salt-water taffy." Allegedly, this term was picked up by other vendors in Atlantic City, and then borrowed by candy makers in other coastal towns from Florida to Massachusetts. By the 1920s, "salt-water" taffy had become a candy store staple, and today, you can find it in any old fashioned candy shop! 🍬🍭
The Taffy Strathspey
Taffy (North American English) or chews (British English) are a type of candy similar to toffee.
Taffy is made by stretching or pulling a sticky mass of boiled sugar, butter or vegetable oil, flavorings, and coloring until it becomes aerated, light, and fluffy and chewy candy. Now it is usually fruit-flavoured, but other flavors are common as well, including traditional molasses.
An old fashioned pastime for parties was the Taffy Pull. And in Quebec, a taffy variety, St. Catherine's Taffy, is sometimes made by girls in Quebec to honour St. Catherine, the patron saint of unmarried women on her feast day, November 25. St. Catherine's day is sometimes known in Quebec as "taffy day," a day when marriage-age girls would make taffy for eligible boys.
For a St. Catherine's (molasses) taffy recipe, click the vintage drawing of an old fashioned taffy pull.
And for a fascinating explanation of the mathematics of taffy pulling machines, click here.